Bethany Village Named Employer of Choice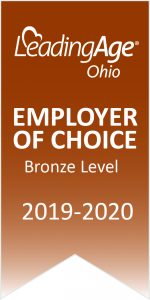 Centerville, Ohio (July 26, 2019) – Bethany Village, a large retirement community, has earned the distinction of Bronze Employer of Choice. More than 600 individuals work at Bethany Village. Sponsored by Graceworks Lutheran Services, Bethany Village is recognized as one of Centerville's largest employers.
LeadingAge is the advocate of non-for-profit services for older Ohioans. The organization recently selected top employers from around the state.
Bethany Village was one of only 23 organizations statewide within LeadingAge Ohio's 400+ members to receive a prestigious Employer of Choice designation.
The Bronze Employer of Choice designation runs through the end of 2020. This acknowledges a strong commitment to high quality recruiting and retention standards.
Applicant organizations must have a 3-star or better rating on the Centers for Medicare & Medicaid Services Five-Star Quality Rating system, and an occupancy rate of 80% or higher for at least one year as of the date of application for newly-opened communities.
In early 2019, Bethany Village opened Crescent Crossing Assisted Living. This new 90,000 square foot building required the additional hiring of 60 staff members. This increased staffing at Bethany Village by nine percent.
"We are working on a recruiting and retention program called Learn, Train, Succeed," explains Graceworks Lutheran Services President and CEO Judy Budi. "This program helps us identify top talent and ensures we train them to be leaders at Bethany Village for tomorrow and years to come. I am very proud we are known as an Employer of Choice."
View open positions online at bethanylutheranvillage.org.