Serving Neighbors in Need
"As each has received a gift, use it to serve one another, as good stewards of God's varied grace."
— Peter 4:10
COVID-19 is changing day-to-day life for all of us. For people living with intellectual and developmental disabilities, coping with changes resulting from COVID-19 has been particularly difficult. At Graceworks Lutheran Services, we've seen how the need to stay home and socially distance has impacted our Enhanced Living individuals. Their daily routines have been disrupted, and their usual group outings and activities have been waylaid by the virus.
As a result, our Direct Support Professionals found they had a great need for extra supplies to keep the individuals they serve engaged, entertained, and in good spirits while staying safe in their homes. At a recent Graceworks Board Meeting, I mentioned our Graceworks Enhanced Living individuals were in need of extra support.
After hearing this, Board Members Beth Townsend and Mary Adams expressed their desire to help. Their congregation—Good Shepherd Lutheran Church—have been engaged in an "adopt a classroom" outreach ministry. Beth and Mary had the idea to lead a similar project for the Graceworks Enhanced Living homes and day programs in Cincinnati and Dayton.
Graceworks Enhanced Living Managers and Direct Support Professionals worked together to create a list of craft and hobby supplies, special snacks, and games the individuals would enjoy. Then, Beth led the effort to collect donation of items and monetary donations, shop for items, and assemble the gift baskets. She worked to ensure the baskets for each home were personalized based on the individuals' interests—everything from puzzles to fishing to gardening. It's estimated that the Good Shepherd congregation provided support of $3,000 to $4,000, in addition to the donated supplies.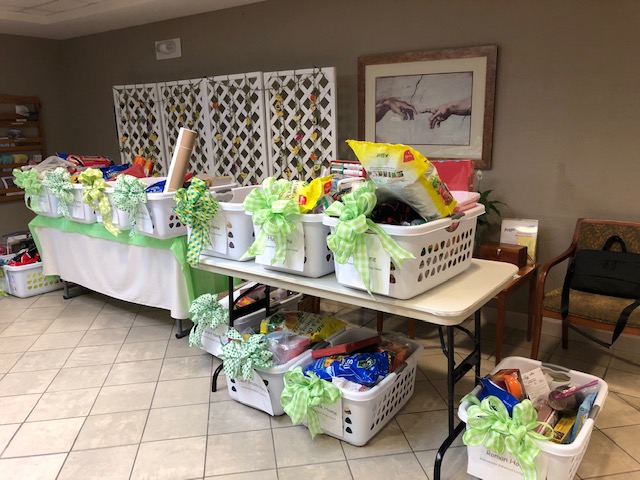 On Thursday, July 30, we gathered at Good Shepherd as Senior Pastor Heidi Johns gave a special blessing over the gifts and volunteer drivers before baskets were delivered to nearby Enhanced Living homes. Several past and current Graceworks Board Members were present to help. Since it was raining, we were able to gather in the sanctuary—the first time this space has been used since March. It was a wonderful way to celebrate giving to others!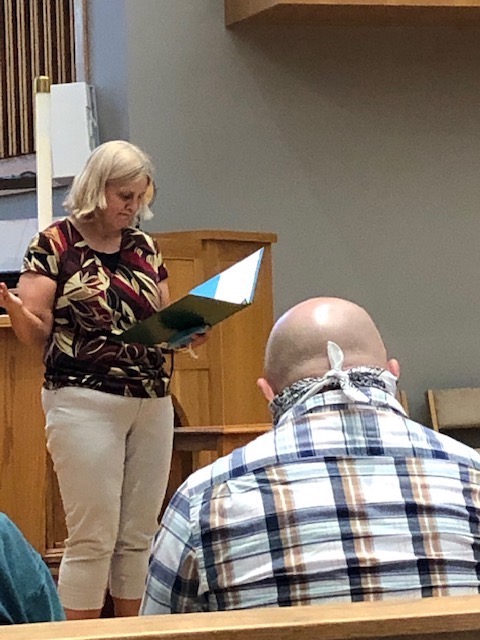 In her blessing, Pastor Heidi described how Graceworks Enhanced Living helps individuals with intellectual and developmental disabilities live with dignity and respect. She was thankful for the Good Shepherd members who participated and generously provided items the individuals will use every day. As Pastor Heidi said, it was a great way for the Board Members to share more about Graceworks' mission with their own congregation and provide support to their neighbors in need.
The Enhanced Living individuals were surprised and thrilled to receive their baskets. It was all the more special that each basket was customized for each home and the individuals' interests!
I am overwhelmed by the passion, enthusiasm, and support for Graceworks Enhanced Living. It was an honor to see this new project come to fruition thanks to our Board Members and Good Shepherd congregation. I have no doubt that each Enhanced Living home will appreciate this blessing for months to come!
In challenging times, simple acts of kindness and compassion are even more meaningful. I hope you, too, are inspired to make a difference for neighbors in need!
To learn more about Good Shepherd Lutheran Church and their Outreach Ministry, click here. For more information on Graceworks Enhanced Living and how you can help support our mission, visit our website.
With gratitude,
Judy Budi