Pastor Celebrates 50 Years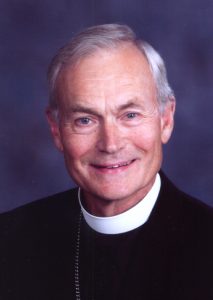 On August 23, Pastor Larry Hoffsis will celebrate 50 years of ordained ministry. Hoffsis currently serves as Mission Integration Consultant at Graceworks Lutheran Services, a position he's held since 2002.
Pastor Hoffsis attended Capital University in Columbus, graduating in 1959. His education continued at Trinity Lutheran Seminary in Columbus, finishing in 1963. He traveled abroad, doing post-graduate work at the University of Heidelberg in Heidelberg, Germany and returned stateside to earn a Doctor of Divinity from Trinity Lutheran Seminary in 1977. In 1994, he earned a Doctor of Ministry from Graduate Theological Union at Notre Dame, IN.
Hoffsis' first parish was St. John Lutheran in Sidney, Ohio. He moved on to Old Trinity Lutheran in Columbus and eventually served at Epiphany Lutheran in Centerville, starting in 1979. Emphases of his ministry have been church growth, worship and music and global mission (partner congregations in East Germany, Russia and Tanzania).
After retirement in 2000, Pastor Hoffsis worked for the Lutheran church in eastern Germany as mission developer and for the ELCA at its Wittenberg Center.  In his current role, he seeks to interpret the ministry of Graceworks to the more than 200 Lutheran congregations in its service area.
An invitation-only reception is planned to take place on the campus of Bethany Village, a retirement community sponsored by Graceworks.