Staying Connected Matters More Than Ever
Let's talk about loneliness
It's an unfortunate fact: The very steps we are taking to slow the spread of COVID-19 have created a second epidemic — an epidemic of loneliness. Social isolation isn't good for anyone, particularly populations who are already vulnerable to loneliness, including older adults and individuals with intellectual and developmental disabilities.
Loneliness has long been a growing problem. Researchers find that people who are lonely and isolated have a 45% increased risk of mortality compared to people with strong social connections. Studies show loneliness is more dangerous than obesity and just as damaging to our health as smoking 15 cigarettes a day. Some studies even suggest loneliness is linked to an increased risk of developing Alzheimer's disease.
Loneliness can affect anyone, regardless of age or background. And there's no doubt that this prolonged season of isolation will have lasting physical and mental health effects on many of us.As we navigate our new normal, we're forced to confront the epidemic loneliness and its prevalence. We are seeing the need to address loneliness as the health issue it is. The stigma of discussing feelings of loneliness, isolation, and depression prevented many people from seeking help and connection. My hope is that we continue to talk openly about the reality of loneliness—its consequences, as well as how it can be prevented.
Working together, staying apart
We've all heard the term social distancing, but I prefer physical distancing. At Graceworks, our service philosophy of Faithful Caring encompasses social support, whether or not we can gather in-person. To stay healthy, we need to actively seek ways to maintain strong social connections.
Especially now, our Graceworks employees have been like family to the people they serve. When family members were unable to visit, they stepped in to provide comfort, compassion, and friendship. They've worked hard to connect residents to their families through technology. They've scheduled phone calls, video chats, and window visits to celebrate birthdays, holidays, and anniversaries. They've arranged fun activities to keep residents and clients engaged and positive. Every day, our team is working hard to bring a smile to someone's face. As you can see in the photos below from Graceworks Enhanced Living, Graceworks Housing Services, and Bethany Village, their creativity is astounding!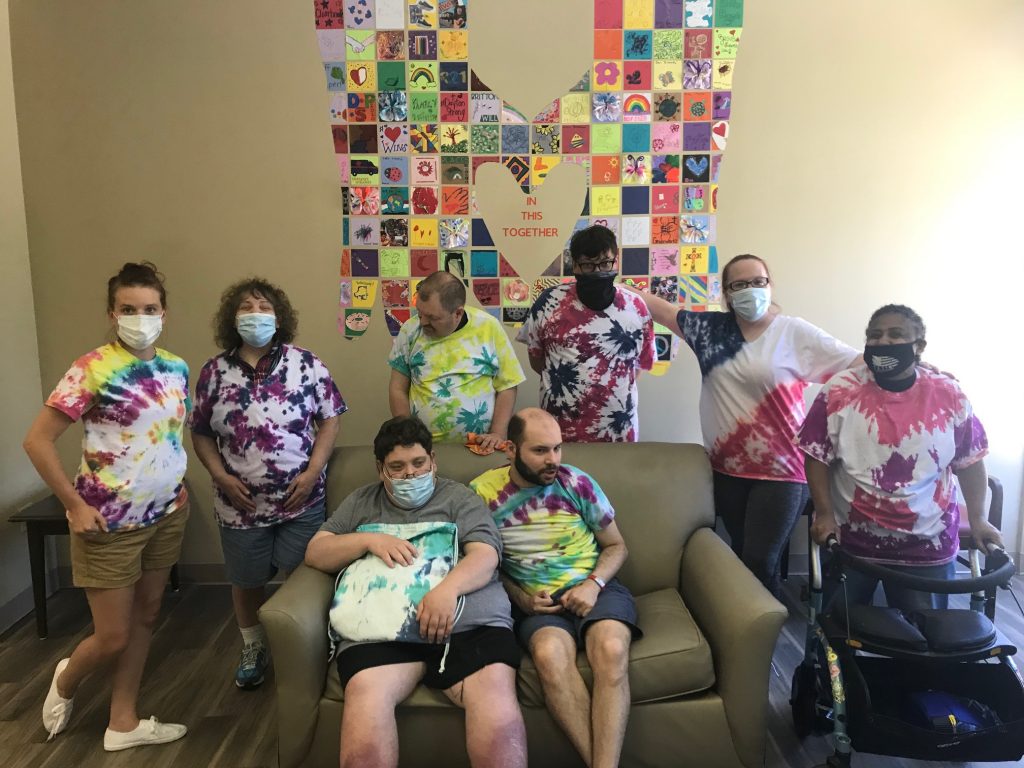 So many ways to keep in touch
Being separated from loved ones is difficult, no matter the circumstances. The good news is, we can all help prevent loneliness by staying in touch with friends and family on a regular basis. I encourage you to reach out and connect through phone calls and texts, video chats, email, social media, and cheerful cards and letters. Consider scheduling a time for daily check-ins, especially with older loved ones. It will give you both something to look forward to every day!
Another great way to stay connected is to interview loved ones and learn more about their lives. LeadingAge and StoryCorps recently partnered to create StoryCorps Connect, a new free digital platform you can use to conduct and record interviews with loved ones. The platform provides helpful conversation starters and questions to ask, making it a great activity for kids, too! If you want, your story can even be archived in the Library of Congress for future generations. Learn more about StoryCorps Connect here.
I hope this gives you a few ideas to stay in touch with friends and family near and far! As always, stay safe and be well.
With gratitude,
Judy Budi