Happy Easter! by Pastor Bob Ashburn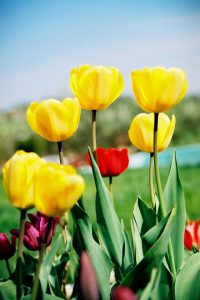 Easter is April 20th this year and it is the biggest Sunday festival of the Christian Church. It is based upon the resurrection of Jesus our Lord, which took place three days after his death on the cross. The church celebrates this resurrection to new life because with Christ's resurrection the rest of us have the hope of that same new life through Christ.
Easter is the reason why the worship day for the church was changed from the Sabbath day, that is, the Seventh Day of the Week (Saturday) to the First Day of the Week (Sunday). Every Sunday the church gets together to celebrate the resurrection of Jesus, for it is this resurrection that separates us from the Jewish heritage that Jesus himself was involved with.
The date of Easter changes each year because of the connection with the historical dates of Jesus' death and resurrection. All we know about the date from scripture is that Jesus died on the cross at the time of the Jewish Passover. As the church attempts to re-create that date and, since the dates of Passover change each year on our calendar, thus we change the date of Easter. Since the Passover date is based on the first full moon of spring, therefore Easter is often the first Sunday following that first full moon. (In reality it is much more complicated than that simple calculation!)
So, as we celebrate Easter this year, let us remember these events in human history, when God came to earth in Jesus, became the sacrifice for us on the cross and rose to an everlasting life with God. Easter is such a big celebration because we are connected to Jesus and now we ourselves look to that hope of an everlasting life with God.
by Pastor Bob Ashburn