Graceworks Lutheran Services Named Large Business of the Year by City of Centerville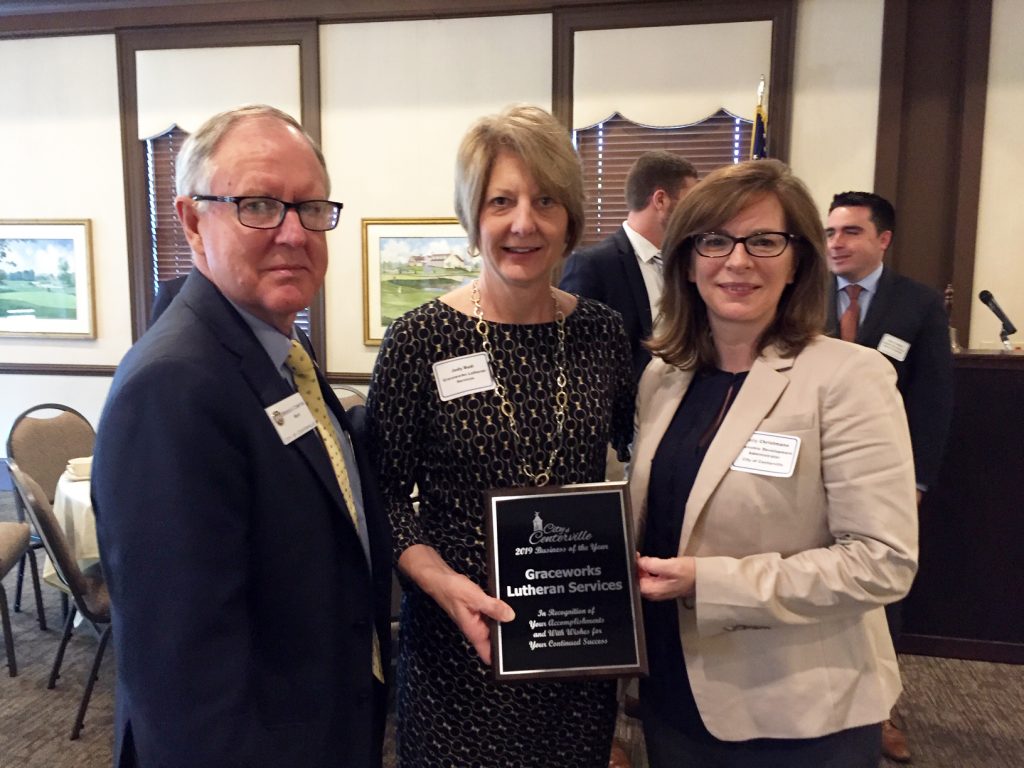 Centerville, Ohio (May 15, 2019) – On Wednesday, May 15, 2019, Graceworks Lutheran Services was named Large Business of the Year at the annual Centerville Mayor's Breakfast.
Graceworks is a nonprofit organization headquartered in Centerville, Ohio. The organization has four service lines including Bethany Village, a continuing care retirement community, Graceworks at Home that helps seniors in their own homes, Housing Services, which provides safe and comfortable apartments for low income or disabled adults, and Enhanced Living, which provides housing for adults with intellectual and developmental disabilities.
The award recognizes accomplishments made during 2018. It was during 2018 that Bethany Village saw the opening of Crescent Crossing, a 73 suite assisted living building. The project took approximately two years to complete at a cost of over $42 million. This injected significant resources into the Centerville economy. To support the opening of Crescent Crossing, Bethany Village employment grew by 9% during 2018.
Centerville Mayor Brooks Compton discussed Graceworks and the organization's positive economic and community impact on Centerville and the surrounding region. He explained how Graceworks aims to create stability in the lives of residents and clients. One of the main values of the City of Centerville is to foster community. Graceworks has three programs that operate directly in the city, the largest being the campus of Bethany Village. Bethany Village boasts over 600 of the organization's nearly 1,200 employees. Over 700 residents live at Bethany Village, contributing to the community by attending special events like the summer concert series at Stubbs Park.
Graceworks President & CEO Judy A. Budi accepted a plaque on behalf of all Graceworks employees. Also part of the award is a red horse chestnut tree. It will be planted at Bethany Village.
"Graceworks has nearly 1,200 employees across three states and I am proud of the work each individual contributes to our organization," says Budi. "Being recognized as the Large Business of the Year by the City of Centerville is a nice reminder of all the important work we do at Graceworks."
Founded in 1926, Graceworks Lutheran Services is the leader in providing a sense of home to individuals facing challenging or changing circumstances related to aging or living with disabilities.
###