Giving Thanks for the Graceworks Family
In a time where there is so much uncertainty, we're all seeking moments of peace and comfort. I often find myself recalling Mister Rogers' timeless wisdom: "Look for the helpers. You can always find people who are helping."
Helpers give us hope in the midst of life's biggest challenges. They care for others selflessly, no matter what.
At Graceworks Lutheran Services, one doesn't have to look far to find the helpers. Our team is on the front lines of the coronavirus outbreak, and they've handled this situation with grace and strength. As essential employees, they cannot work from home. They are here, and they remain engaged, upbeat and focused on providing impeccable care to those we serve.
Over the past several weeks, I have been incredibly inspired by how our team is demonstrating Graceworks' mission and promise of Faithful Caring. They have adapted quickly to the social distancing and limited visitor requirements or in some areas the no visitation guidelines, following all Centers for Disease Control and Prevention(CDC) and Ohio Department of Health (ODH) guidelines to keep our residents safe while enhancing their quality of life.
Our employees are taking extra time to call the family members of residents and clients, just to give an update on how a loved one is doing. They've also helped residents and clients make phone and video calls to say goodnight and keep in touch when they cannot visit face-to-face. At Bethany Village, our Life Enrichment team is ensuring residents stay connected by creating live stream broadcasts of spiritual services, fitness classes, music therapy programs and other virtual activities. At Graceworks Housing Services, our property teams are preparing meals for residents and delivering them to their doors, all while managing social distancing.
When I think of all the work our team is doing here at Graceworks, I am reminded of how often I hear employees refer to their coworkers as family. Just like a family, we lift each other up; we celebrate; we mourn; we go through life's stages. And now more than ever, we are in roles where we are becoming like family for our residents who are isolated from their own loved ones.
In my weekly appreciation message to our Graceworks employees, I consistently express the gratitude we have for the work they are doing. Our employees have been and always will be an essential part of the Graceworks family. They are all taking extra precautions to stay healthy at this time, and many are even sheltering from members of their own families. We are forever grateful for the sacrifices they are making to keep our communities safe.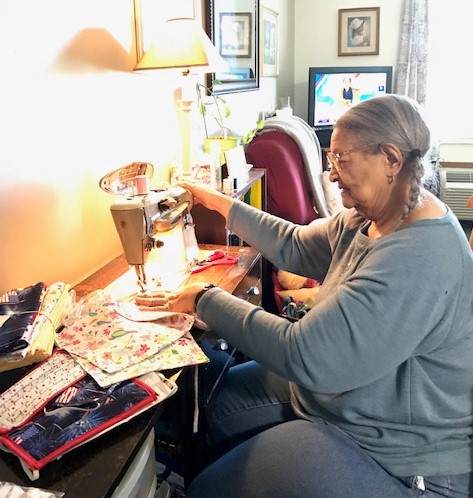 Many people have asked how they can support Graceworks and those we serve during this time of social distancing. We are very appreciative of the dozens of staff, residents, church and community volunteers who have made and donated cloth masks for our employees. We are also grateful for those who have made generous financial or food donations that allow us to provide healthy meals for our staff members working on the front lines. If you, too, would like to support Graceworks with a donation, please visit Graceworks.org/support/donate.
Another simple way to spread kindness is by sending letters and cards of encouragement and positivity. Below you will find the addresses to send mail to our senior residents in Bethany Village and Housing Services, as well as adults with intellectual or developmental disabilities in Graceworks Enhanced Living. We ask that you don't lick the envelope – tape works great. Thank you for delivering joy to the Graceworks community!
Bethany Village
Bethany Residents c/o Kathy Klein
Life Enrichment Manager
6451 Far Hills Avenue
Dayton, Ohio 45459
Graceworks Housing Services
Housing Service Residents c/o Pat Copenhefer
Administrative Assistant
6445 Far Hills Avenue
Dayton, Ohio 45459
Graceworks Enhanced Living
Enhanced Living Individuals c/o Amy McCoy
Office Manager
11370 Springfield Pike
Cincinnati, Ohio 45246
In times of trial, our employees are our heroes. If you are a family member, a community leader or a friend of a friend and would like to lend a word of encouragement to our Graceworks Heroes — those on the front line every day — please send us a note with your thoughts at HERO@Graceworks.org. We will make sure your thoughts of appreciation and notes of thanks are shared throughout our campus.
With gratitude,
Judy Budi