Fountain Place renovations please patrons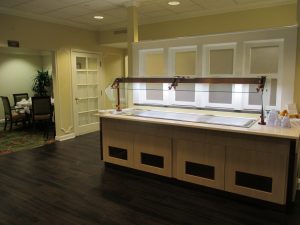 Homestead residents expressed a desire to have the Fountain Place dining room updated with an open, spacious feel including expanded walkways. They also wanted large circular tables and quieter environment to facilitate conversation. The salad bar and self-service area needed updating.
Executive Chef Eric Williams and Sean Dodson, Director of Facilities, listened and created a new design that delivers the desired changes and modern updates.
Click here to see renovation photos.
Contractors started the work tearing out old tile at the beginning of March while the dining room continued to serve residents during the work. The project was completed on this week.
"I am very excited about the renovation and the enhancements improving the overall dining experience for our residents," states Chef Eric. "Overall, it will improve the dining experience for years to come."