Centerville students recognized as Bethany volunteers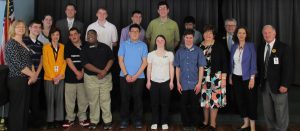 Centerville High School students in the Integrated Transition Options Program (ITOP) were thanked for their volunteer service during an appreciation lunch on May 9 at Bethany Village. Graceworks  President and CEO Bill Serr, along with Centerville City Schools superintendent Dr. Tom Henderson, also attended the event.
ITOP has been partnering with Bethany Village Volunteer Services since 1995 in providing career exploration and job training opportunities for students.
ITOP students contribute between 600 and 1,000 volunteer hours monthly throughout the school year to various departments at Bethany.
Click on the image above to see the entire group, full screen.