5 Benefits of In-Home Care for Seniors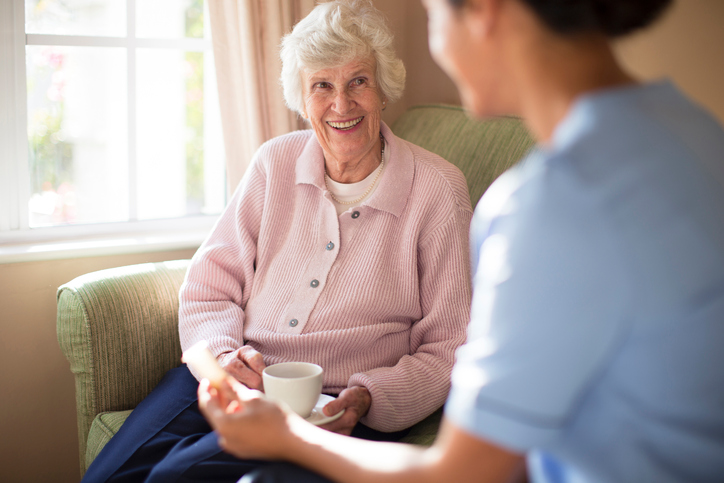 In-home care provides comfort, safety, and security for seniors who need minimal daily support and assistance. In general, there are two types of in-home care for seniors: non-medical and medical.
Non-medical home care is best for seniors who need a little extra support with activities of daily living (ADLs). Caregivers provide assistance with ADLs including grooming, dressing, light housekeeping, and preparing and cooking meals. Medical home care, on the other hand, is provided by a healthcare professional, such as a registered nurse, who assists with administering medication, wound care, monitoring heart rate and blood pressure, and other medical tasks.
In-home care has become a popular solution for older adults who want to stay at home but need more help than family caregivers can provide on their own. If you're curious about the advantages for yourself or a loved one, take a look at some of the key benefits of in-home care:
Familiarity
It's not surprising that most older adults would rather live at home for as long as possible. Our homes provide a sense of comfort, familiarity, and security, and it's difficult to leave a house filled with family memories. In-home care makes it possible for older adults to continue living safely and independently in their preferred environment.
Convenience
In-home care is a convenient option for both older adults and their families. Instead of downsizing and or moving in with a relative, older adults can stay in place and arrange to have skilled caregivers come directly to their home. Whether help is needed for just a few hours or all day long, in-home caregiving allows older adults to receive the care they need on a schedule that works for them.
Personalized care
Another benefit of in-home caregiving is that it is highly individualized. With in-home care, older adults receive one-on-one attention from a single caregiver. This way, they can get to know their caregiver and feel more comfortable every time they visit.
Companionship
Home caregivers provide more than a service; they also provide meaningful connection and companionship. For older adults who live alone, caregivers are a source of social support and encouragement, which can go a long way in preventing loneliness and benefiting their overall health and quality of life.
Support for family caregivers
In-home caregiving not only benefits the individual receiving care but their family and loved ones as well. It's not uncommon for family caregivers to experience stress or burnout, which can negatively impact their health and wellbeing. Getting help from an in-home care service allows families to take a step back from caregiving and focus on their relationship with their loved one.
It's important to remember that participating in in-home care isn't always the best option for older adults, especially those who have progressive health conditions or require 24/7 nursing care. In these instances, moving to an assisted living community is often a better – and more cost-effective – alternative to in-home care.
At Graceworks At Home, we recognize that many older adults want to remain at home, even when they need a little extra help. Our team of dedicated caregivers provides non-medical support services as well as skilled nursing and multiple therapy services 24 hours a day, seven days a week, 365 days a year, enabling older adults to remain living safely and happily at home.